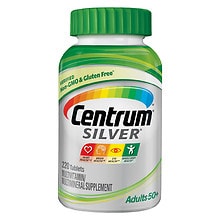 Walgreens has a $4.00 off coupon in their June coupon booklet for Centrum 150 to 220 ct bottles of vitamins. There is also a printable coupon available that you can stack with it for BIG savings!
Buy Centrum Silver 220 ct. bottle $19.99
use $4.00 off Centrum 150 to 220ct., from Walgreens June Savings Book
and use
$2.00/1 Centrum Silver 100 ct. or larger
Final Price: $13.99!
or if you want a smaller bottle try this deal:
Buy Centrum Silver 150 ct. bottle $15.49
use $4.00 off Centrum 150 to 220ct., from Walgreens June Savings Book
and use
$2.00/1 Centrum Silver 100 ct. or larger
Final Price: $9.49